Losing Best Friend Quotes: When we lose a friend, it's like losing a member of our own family because friends are like family.
Below you will find encouraging quotes about losing a friend that can help you deal with your grief and find your way to spiritual healing.
Authors and celebrities alike have written movingly on the impact of friends' deaths on their lives.
From several online sources, I compiled quotations about the pain of losing a friend.
Losing Best  Friend Quotes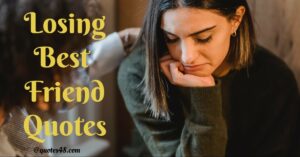 Let's check out what they've written!
"The loss of a friend is like that of a limb; time may heal the anguish of the wound, but the loss cannot be repaired." — Robert Southey.
"Man who has known the immense unhappiness of losing a friend, by what name do we call him? Here every language is silent and holds its peace in impotence." ― Joseph Roux.
"Breaking with old friends is one of the most painful of the changes in all that piling up of a multitude of small distasteful changes that constitutes growing older." — John Dos Passos.
"While we are mourning the loss of our friend, others are rejoicing to meet him behind the veil." — John Taylor.
"Old friends pass away, new friends appear. It is just like the days. An old day passes, a new day arrives. The important thing is to make it meaningful, a meaningful friend – or a meaningful day." ― Dalai Lama
"The most beautiful discovery true friends make is that they can grow separately without growing apart." — Elizabeth Foley.
"Your lost friends are not dead, but gone before, advanced a stage or two upon that road which you must travel in the steps they trod." ― Aristophanes.
"When people die,' she said softly, 'It doesn't necessarily mean you're ready to give them up." — C.A. Belmond.
"Some people come into our lives and quickly go. Some stay for a while, leave footprints on our hearts, and we are never, ever the same." ― Flavia Weedn.
Inspirational Quotes About Loss Of A Friend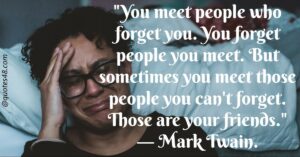 "'Tis better to have loved and lost than never to have loved at all." ― Alfred Lord Tennyson.
"Goodbyes are only for those who love with their eyes. Because for those who love with heart and soul, there is no such thing as separation." ― Rumi
"True friends are special people who never leave your heart, even if they leave your life for a while. Even after years apart, you pick up with them right where you left off, and even if they die they're never dead in your heart." — Unknown.
"How lucky I am to have something that makes saying goodbye so hard." ― A.A. Milne
"You will lose someone you can't live without, and your heart will be badly broken, and the bad news is that you never completely get over the loss of your beloved. But this is also the good news. They live forever in your broken heart that doesn't seal back up. And you come through. It's like having a broken leg that never heals perfectly-that still hurts when the weather gets cold, but you learn to dance with the limp." ― Anne Lamott.
"What we have once enjoyed deeply, we can never lose. All that we love deeply becomes a part of us." — Helen Keller.
"Don't be dismayed at goodbyes. A farewell is necessary before you can meet again. And meeting again, after moments or lifetime, is certain for those who are friends." — Richard Bach.
"We all lose friends… we lose them in death, to distance, and over time. But even though they may be lost, hope is not. The key is to keep them in your heart; when the time is right, you can pick up the friendship right where you left off. Even the lost find their way home, when you leave the light on" — Amy Marie Waltz.
"The best of friends understand that they were loved for who they were in life and that they will be remembered for their heart in death." — Unknown.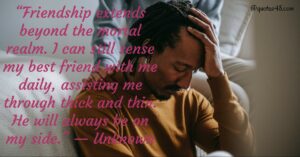 "Friendship survives death. Memories made will never be forgotten, and they left an indelible imprint on those left behind. Everyone improved as a result of having such a fantastic friend." — Unknown.
"The bond between friends cannot be broken by chance; no interval of time or space can destroy it. Not even death itself can part true friends." ― John Cassian.
"There is nothing more memorable than the sound of a friend's laughter. May it muffle the sound of my sobs." — Unknown
"It is a tragedy when a best friend dies too young, and what would have been worse is never meeting them. I am grateful to have had my friends in life and will continue to be their friend in death, honoring them in whatever I do." — Unknown.
"There's a thing that keeps surprising you about stormy old friends after they die; their silence." — Ben Becht.
"Saying farewell isn't something we do. Instead, I'll remark that I'm looking forward to seeing my friend again every time I hear a phrase, hear a joke, or see an article of clothing that reminds me of them. These are the things that will bind us together even after we die." — Unknown.
Losing Best  Friend Quotes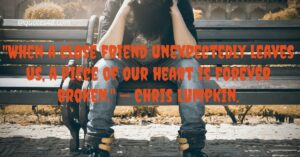 "Some birds are not meant to be caged, that's all. Their feathers are too bright, their songs too sweet and wild. So you let them go, or when you open the cage to feed them, they somehow fly out past you. And the part of you that knows it was wrong to imprison them in the first place rejoices, but still, the place where you live is that much more drab and empty for their departure." ― Stephen King.
"The two hardest things to say in life are hello for the first time and goodbye for the last." ― Moira Rogers.
"Life without a friend is like death without a witness." — John Ray
"True regret is knowing you missed your only opportunity to be simply a good friend to someone that was exactly like you." — Shannon L. Alder
"Friends fill time in our lives that will be vacant when they die." ― Helen Fitzgerald
"The reality is that you will grieve forever. You will not 'get over' the loss of a loved one; you will learn to live with it. You will heal, and you will rebuild yourself around the loss you have suffered. You will be whole again, but you will never be the same. Nor should you be the same, nor would you want to." — Elisabeth Kubler-Ross
"I love you every day. And now I will miss you every day." ― Mitch Albom
"It hurt because it mattered." ― John Green
"It's difficult to smile through the pain and walk the rest of the route of friendship alone." — Unknown.
"I don't think of all the misery, but of all the beauty that remains." — Anne Frank.
"This passion, and the death of a dear friend, would go near to make a man look sad." — William Shakespeare.
"On the death of a friend, we should consider that the fates through confidence have devolved on us the task of a double living, that we have henceforth to fulfill the promise of our friend's life also, in our own, to the world." ― Henry David Thoreau.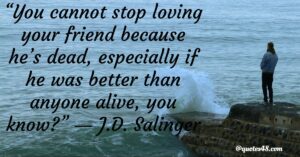 "Death is a challenge. It tells us not to waste time… It tells us to tell each other right now that we love each other." — Leo Buscaglia.
"He who has gone, so we but cherish his memory, abides with us, more potent, nay, more present than the living man." ― Antoine de Saint-Exupéry.
"Not even death itself can part true friends." — St. John Cassian
I hope these heartfelt losing best friend quotes bring comfort in knowing you are not alone in your grief.
Allow yourself time to recover, but keep in mind that it's an unfortunate reality of life that we'll all lose loved ones at some point.
Read Also: