Inspirational Saturday Morning Quotes – The weekend finally arrives on Saturday, giving most people the opportunity for some well-deserved R&R (rest and relaxation) and good times.
According to Vettius Valens, the Romans named Saturday diēs Sāturnī (Saturn's Day) for the planet Saturn because the planet Saturn ruled over the first hour of that day.
Further, Saturdays can be spent doing anything you like, be it rest, leisurely activities, entertainment, or quality time with loved ones. It's a wonderful chance to go on adventures, try out activities you normally wouldn't have time for owing to work or other obligations during weekdays, or simply unwind and recharge.
The following Saturday morning quotes are a wonderful approach to inspiring yourself and others to make the most of the possibilities that Saturdays provide. Read on!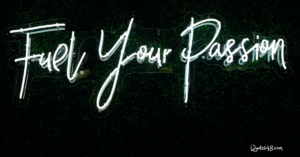 Just how Crucial are Inspirational Saturday Morning Quotes?
These quotes create an unbreakable strategy that will keep you focused on your objectives. In many aspects, Saturday mornings have a special way of revitalizing and inspiring people.
Again, sharing these quotes with family and friends, especially those of a younger generation, is a great way to spread joy.
Inspirational Saturday Morning Quotes
01. "Impossible is just an opinion." – Paulo Coelho
02. "Saturday is a time to enjoy the small blessings of life (When you stop and think about it, you have many blessings)." – Anonymous
03. "Take the time to do what you love to do this weekend." – Catherine Pulsifer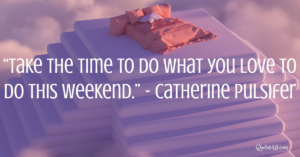 04. "Nothing will be wrong; everything will be right. Let Saturday will remind that to you." – Anonymous
05. "Nothing is more fulfilling than a Saturday morning started with an open heart. A grateful heart unlocks the blessings of the day." – Anonymous
06. "It's not that we spend five days looking forward to just two. It's that most people do what they enjoy most on those two days. Imagine living a life where every day is your Saturdays and Sundays. Make every day your weekend. Make every day a play-day." – James A. Murphy
07. "You can overcome anything if you don't bellyache." – Bernard M. Baruch
08. "If you get up in the morning and think the future is going to be better, it is a bright day. Otherwise, it's not." – Elon Musk
09. "If you don't design your own life plan, chances are you'll fall into someone else's plan. And guess what they have planned for you? Not much." – Jim Rohn
10. "Saturday. It's a good day to have a good day." – Anonymous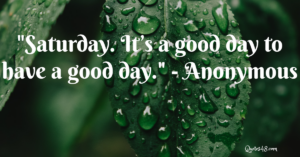 11. "If you don't work to achieve your dreams, you'll probably end up working to help others achieve their dreams." – Anonymous
12. "Each morning we are born again. What we do today is what matters most." – Buddha
13. "It's weekend. Remember to count your rainbows instead of your thunder storms." – Anonymous
14. "Time flies and comes with great rewards. Spending most of the time positively can remove the shortcomings and gloominess of life." – Anonymous
15. "You don't have to be great to start, but you have to start to be great." – Zig Ziglar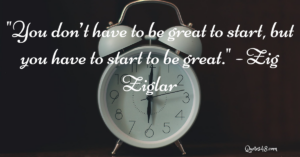 16. "No matter what, let no one and no situation take that away from you. Choose to be happy." – Anonymous
17. "Those who intensely fear failing end up falling short of their potential. We either learn to fail, or we fail to learn." – Anonymous
18. "Happiness is not something ready-made. It comes from your own actions." – Dalai Lama
19. "Start this wonderful weekend with a clean heart. Start it without any doubt, tears, fears, or worry." – Anonymous
20. "Today is Saturday. Yesterday you said tomorrow. Do it today. Do not make any excuses for yourself." – Anonymous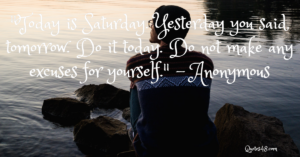 21. "Every day is a gift. But some days are packaged better." – Sanhita Baruah
22. "Saturday shines when we let our positive attitude shine through." – Anonymous
23. "The key to success is consistency, and right now, the only way for you to actually take action is to believe in yourself." – Anonymous
24. "The biggest adventure you can ever take is to live the life of your dreams." – Oprah Winfrey
25. "I'm not an early bird at all. Ideally, on Saturday morning, I'd allow myself a lovely lie-in. 10:45 would be just right." – Shilpa Shetty
26. "Look up to the sky; you'll never find rainbows if you're looking down." – Charlie Chaplin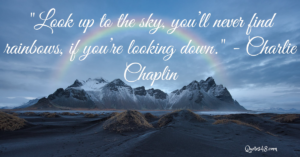 27. "Success is not final, failure is not fatal: It is the courage to continue that count." – Winston Churchill
28. "Spend a day doing nothing: Let your mind wander; Let nature entertain you; Let stress go. Enjoy Saturday." – Anonymous
29. "Words have even more power when you believe in them. What you say has the potential to change your attitude and your whole way of thinking." – Anonymous
30. "The only person you are destined to become is the person you decide to be." – Ralph Waldo Emerson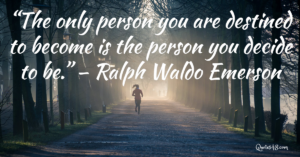 31. "The only reason why we ask other people how their weekend was is so we can tell them about our own weekend." – Chuck Palahniuk
32. "The best way for us to perhaps influence others is to instead focus on ourselves by doing our best – then others will be influenced by our leadership by example." – Anonymous
33. "Train your mind to see the good in everything this weekend. Positivity is a choice. The happiness of your life depends on the quality of your thoughts." – Anonymous
34. "Weekends are a bit like rainbows; they look good from a distance but disappear when you get up close to them." – John Shirley
35. "The future belongs to those who believe in the beauty of their dreams." – Eleanor Roosevelt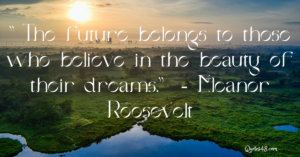 36. "We should be pushing the boundaries a bit of Saturday morning telly and trying new things." – Anonymous
37. "Even when life gets hard, just remember that after the tiring week, Saturday comes as a blessing along with Sunday so that you can have the time of your life." – Anonymous
38. "My Saturday morning attitude is a reflection of the rest of the week gone by. That's why I always aim to end my week on a high note of accomplishment; a goal reached, or a person encouraged." – Anonymous
39. "If you had to work 14-hour days, Mondays to Fridays, then you have to keep Saturdays and Sundays sacred." – Nicole Ari Parker
40. "The difference between those who succeed and fail: not taking advantage of opportunities." – Anonymous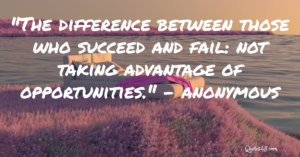 41. "When you are unemployed, weekends are seven days long." – Mokokoma Mokhonoana
42. "Everyone has inside them a piece of good news. The good news is that you do not know how great you can be, how much you can love, what you can accomplish, and what your potential is." – Anonymous
43. "Sometimes, the biggest step you can take is to stop procrastinating. Rise and take that tiny first step toward your goal this weekend." – Anonymous
44. "Saturday is what gives us a weekend of enjoyment." – Anthony T. Hincks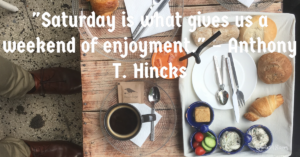 45. "Your body constantly tells you what it needs, and if you wake up early on a Saturday morning, it is because the world is calling you to do something fun." – Anonymous
46. "There is something so uniquely beautiful about Saturday mid-mornings. It might be the hope or belief that the weekend is here, and everything our minds conceive can be achieved." – Anonymous
47. "The only limits in life are the ones you make." – Anonymous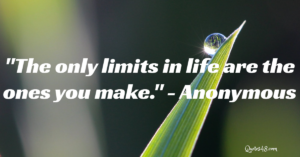 48. "Saturdays come once a week, with the blessings you missed all through Sunday, Monday, Tuesday, Wednesday, Thursday and Friday. Enjoy." – Anonymous
Final Thoughts
The aforementioned Saturday morning quotes are insightful, inspiring, amusing, and thought-provoking. These quotes were compiled to help you have the best weekend possible. After all, for most people, it's not Saturday; it's Satur-yay!
Therefore, regardless of your Saturday plans, ensure you slow down long enough to enjoy its splendor.
We hope you find this information helpful. Please use any of the share buttons below to share this information.
Feel free to drop any questions or contributions regarding this article in the comment section below.
More reads:
Thank You For Loving Me Quotes